What is Case Management?
Case management, also know as Service Coordination, is a collaborative process of assessment, planning, and advocacy for options and services designed to meet an individual's and family's comprehensive needs through community resources to promote quality, cost-effective outcomes.
Case Management Services
Do you need help navigating the service delivery system? Trying to find services for your family member with special needs can be overwhelming, time consuming and frustrating. Our Case Managers at Bright Start are ready to assist by offering creative planning to meet your family member's unique needs. We can help you connect to the best services and resources in the community for your loved one.
The purpose of a Case Manager is to assist people with disabilities and their families through choice of meeting needs, pursuing possibilities, and achieving life goals. Bright Start has a long standing relationship with the families with whom we work. All of our Case Managers have extensive experience working with individuals and families in the field of disabilities. Bright Start has knowledgeable and caring staff dedicated to providing services to the children and adults we serve. At Bright Start, family and consumer satisfaction is our number one priority.
 If you would like to determine if your family member is eligible for Case Management Services, please call the central intake and referral line at 1-800-289-7012. The Care Coordination Team at the Department of Disabilities and Special Needs will assist you determining eligibility. During the eligibility process, you will be offered a choice of Case Management provider. CHOOSE BRIGHT START for quality services from a caring staff. If you would like more information about services with Bright Start, please call us toll free at 1-855-221-9265
Did you know you have a choice for Case Management Services?
If you are already a part of the DDSN system and are not satisfied with your current Case Management Provider, you can choose to receive services from another provider. Bright Start will be happy to talk to you about your options and our Case Management services. For a complete list of Case Management providers in your area, click on the link below from the DDSN website to review your options.
https://app.ddsn.sc.gov/public/directory/landing.do
 Case Manager Highlights
At Bright Start we have an intensive process for potential employees which include a two part interview and in the field ride alongs with experienced Case Managers.
We provide intensive training and support to our team of Case Managers which includes extensive field work and continuing on the job training.
Bright Start has knowledgeable and caring staff dedicated to providing services to the families we serve.
We have a spanish speaking Case Manager who specialized in serving out Hispanic families.
At Bright Start, family satisfaction is our number one priority.
We specialize in the Pervasive Developmental Disorders Waiver, Community Supports Waiver and the Intellectual/Related Disabilities Waiver.
We are currently providing Case Management Services in the following counties: Aiken, Richland, Lexington, Kershaw, Fairfield, Chester, Lancaster, York, Newberry, Pickens, Greenville and Spartanburg.

Janis Moore - Case Manager Supervisor - Midlands Office
I am proud to have been born and raised in the Columbia area of South Carolina. I graduated with honors from Columbia College with a degree in Psychology. After graduation, I worked briefly in the insurance industry until I discovered my passion working with children and adults who have special needs. There is no greater reward than helping someone achieve their greatest potential by breaking down barriers.
I joined the growing Bright Start family in 2001 and started our Service Coordination program. In my spare time I enjoy working in the garden, reading, and playing in the water.
I reside in Blythewood with my husband, son, and 4 dogs.
Becky Peters - Case Manager Supervisor - Midlands Office
My name is Becky Peters, and I am a Service Coordinator Supervisor at Bright Start. I have been a team member at Bright Start for 10 years. I was born and raised in Columbia, SC. I have worked with children with special needs since my days at Irmo High School.
As a Civinette, I was offered several opportunities to get to know the community of folks with different abilities, and I thoroughly enjoyed the interaction with these children. I started at the University of South Carolina as a business major.
Somehow I knew this did not fit! I graduated from USC with a degree in Exercise Science and a cognate in Motor Development.
Mckenzie Johnson- Case Manager Supervisor- Midlands Office
Hi! My name is McKenzie Johnson and I was born and raised in
Columbia, SC. Before my husband and I got married we relocated to Kennesaw, GA for 4 years due to my husband's job. While there I earned a bachelor's degree in Early Childhood Education and Sociology from Kennesaw State University, graduating Cum Laude. After getting married and graduating we decided to move back home to Columbia to start a family. While I was in GA my nephew was diagnosed with SPD and Autism. Seeing him go through Early Intervention and therapy, witnessing the difference it can make, I shifted my focus to children and families with special needs. I worked as an ABA therapist, providing therapy for children with Autism. After having my daughter I began working at Bright Start as an Early Interventionist. In July of 2015 I made the switch over to Case Management. I love my job servicing families with special needs.
Linda Kunz- Case Manager Supervisor- Greenville Office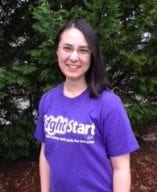 Originally being from Tennessee, I graduated from Austin Peay State University with a Bachelor's degree in Sociology and Psychology minor. During my time in college, I worked for a child development center as an infant teacher. I knew from my experience there and having a brother who is diagnosed with Down syndrome that I wanted to work with children with developmental disabilities. After completing my degree, I worked for a Tennessee school district as a Special Education Resource Assistant for a few years. Through my experiences, I knew I wanted to make a positive impact and help others. Working at Bright Start has given me that opportunity and I love that I can make a positive difference for so many families.
Respite and Family Support Funds