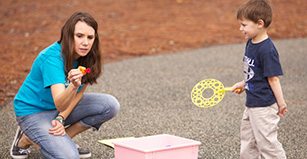 Bright Start has an excellent team of Speech Language Pathologists dedicated to helping children with communication and feeding skills. We bring a family-centered approach to speech therapy and work with children, their families and caregivers in the natural environment including homes, daycares and the community. Bright Start Speech Language Pathologists have experience working with children with a variety of delays and disorders including receptive and expressive language, feeding, pragmatic language/social skills, articulation, phonology, and fluency. Our therapists strive to empower families to help their children reach their full potential.
Members of our team have pursued additional training and have specialized experience in areas of speech/language treatment including feeding, early childhood language development, apraxia, pragmatic language deficits, severe speech sound disorders, hearing loss, behavior management, and social/emotional development. Some of our team members have completed formal trainings including the Sarah Rosenfield Johnson CCC-SLP's Three Part Treatment Plan for Oral Placement Therapy, Lori Overland CCC-SLP's Feeding Therapy: A Sensory Motor Approach, and Children Who Struggle to Speak: The Kaufman Speech to Language Protocol, PROMPT, the Beckman Oral Motor Protocol, Floortime, and the Orton-Gillingham Approach. We currently have a therapist who is pursuing board certification in Auditory Verbal Therapy and another therapist pursuing board certification in Fluency and Fluency Disorders.
We look forward to helping your family!
Serving the Midlands, Rock Hill, and Low Country areas
Kelli Floyd -CCC-SLP, SLP Supervisor, Charleston, SC
Kelli Floyd has been a Speech- Language Pathologist since 2004. She received her undergraduate degree from Columbia College and her Masters from the University of South Carolina. She worked for the first 5 years in Lexington School District 1 where she gathered experience with the preschool population, and worked the last year at the district with the preschool Autism program. After leaving the school district, Kelli joined the team at Kaufman Therapy Services to serve the birth to three population through BabyNet. She has enjoyed learning more about this age group and getting to work directly with the families of her clients. She moved to Charleston, SC in 2014 to expand the Bright Start speech team in the Low Country and is exited to continue her journey at Bright Start. In her free time she enjoys spending time with her two children, Jay and Meyer Addison, husband, Lee, and two dogs, Fenway and Dustin having fun around Charleston!
Sarah Myers CCC-SLP, SLP Supervisor, Columbia
Sarah earned a speech pathology master's degree from the University of South Carolina in 2010. She has experience working in the public school system and private practice before beginning work with Bright Start in 2012. Sarah's clinical experience and areas of interest include pediatric language, articulation, fluency, and feeding disorders. She also has experience as an ABA line therapist. Sarah loves working in early intervention with the goal to help families help their children reach their full potential. Sarah lives in Columbia with her husband Matthew and daughter Millie..
Referrals
We are currently accepting referrals in the Midlands, York County and Low Country areas! Please send referrals to: