Bright Start provides Early Intervention services for children ages birth to six.
Early Intervention is a family directed program providing intensive developmental instruction for parents/caregivers and their children with special needs. We assist families in helping children reach developmental milestones by building on the strengths of the family and child. This is done through home visits and individualized family training.
Early Intervention is a statewide, comprehensive, coordinated, multidisciplinary, interagency system that provides home and community based services for infants and toddlers with disabilities and their families. In simpler terms, it is a range of services designed to intervene at the early stages of an infant's or toddler's disability in order to help them reach their developmental potential.
Contact BabyNet for an initial assessment to determine if your child qualifies for Bright Start Early Intervention services.
Success Stories
Children who receive Early Intervention are:
More likely to achieve developmental goals sooner
Less likely to need special education classes later
Less likely to develop other disabilities
More likely to reduce family stress
Infant Massage
Bright Start has several staff members who are Certified Infant Massage Instructors. The benefits of infant massage are:
Reduces stress for parent and child
Stimulates neurological development
Aids in Digestion
Helps relieve gas, colic and constipation
Increases alertness and higher awareness
For more information on infant massage visit: Bright Start Infant Massage
Kerri Wikel
Supervisor - Rockhill/Aiken/Midlands Office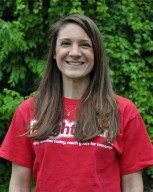 Before accepting a position at Bright Start in April of 2013, I was a head coach of a competitive gymnastics team. There were many aspects of that job that brought me joy, but my involvement with the athletes and their families was my favorite part. After 10 years as a head coach, I recognized the need for a change, but I wanted a career that would allow me to stay connected to young children and their families, so Bright Start was the perfect place for me.
I was so excited to accept the position as an Early Interventionist, and after studying psychology in college, I knew this was the perfect job for me.It is exciting to be a part of these families' lives and help them to achieve their goals.
I feel extremely fortunate to be part of a program that brings so much joy and happiness into families' homes day in and day out.
Nicholas Butcher
Supervisor - Midlands Office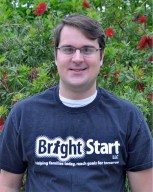 I first began my work in the field of special needs in 2007 through Applied Behavior Analysis for children with Autism ages 1-12. Initially, after graduating from College of Charleston in 2008, I practiced ABA in Charleston.
In August 2011, I moved to Columbia with my wife and have been with Bright Start since April 2012.
It's a great pleasure to utilize my experience and knowledge of Autism to benefit families around Columbia.
Donna Griffith
Supervisor - Anderson/Greenville/Pickens/Oconne/Upstate Office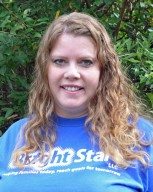 I knew I was called to work with children from a very early age. My mom used to call me "the pied piper" because children were always around me wherever we went. I have babysat, worked in daycares, tutored, taught at camps, worked in church nursery/preschool, been a nanny, and taught school for six years. I believe that all of this experience has played a role in preparing me for where I am today.
I received a BA in Elementary Education with certification in K5-8 in 1995. From there I went into teaching and although I loved my students and had a great experience in that school, I felt that I was supposed to be working with children with developmental delays and special needs.
When I started this job ten years ago, I knew that THIS was the job for me, and today I feel the same way as I did then.
Sarah Gaskins
Supervisor - Spartanburg/Greenville/Upstate Office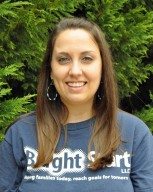 My passion for working with young children started at an early age. As one of four siblings, I grew up surrounded by children. As soon as I was old enough, I began volunteering with the children's nursery and vacation bible schools at my church. In high school, I turned my passion into a part-time job by working at a child care center.
While most of my friends complained about their summers spent waiting tables or working retail…I loved every minute at work because I was surrounded by children. I graduated from college in 2005 with a degree in Sociology and started with with Bright Start as an Early Interventionist, or EI, soon after.
After 2 1/2 wonderful and challenging years as an EI, I was given the opportunity to advance in my career by accepting a position as an EI Supervisor, the position I currently hold.
Beth Deason
Administrator - Early Intervention State Director/Midlands Office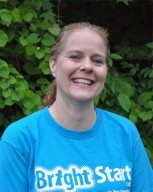 Upon completion of my graduate studies in Speech – Language Pathology, I worked in the public school system with children 3 through 12 years of age. Although I enjoyed working with these children, I didn't feel this was truly where I belonged.
I then took a position with a private speech therapy provider doing subcontract work. This was definitely an all encompassing job, as my work settings and populations ran the entire spectrum. I worked with adult stroke patients in the hospital inpatient/outpatient facilities, home health and worked with children in the private school setting.
The home health setting is where I found the path that had been set out for me. I began working with children who had developmental delays, providing speech therapy in the home and I fell in love.